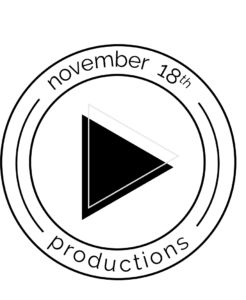 November 18 Productions is a film and television production company that promotes inclusion and celebrates multiculturalism. The name of the company represents the birthday of 
Akilah
 and her twin brother, Omari Newton, and the company's first title is a collaboration between the pair. The first project to be released is called 
Beyond February
, which is a documentary film that explores the complex history of Black displacement and the historic Canadian Black communities, Little Burgundy (Montreal) and Hogan's Alley (Vancouver). The film follows the Newton twins, as they embark on Overture with the Arts' 9th annual Black History Month tour, which sees the pair travel to Quebec, Ontario and British Columbia. Growing up as people of colour in the predominantly white suburbs of Montreal, overcoming the challenges of systemic and overt racism had always been an issue for their family. 
November 18 Productions hopes to produce film and television that brings stories of and by people of colour to the forefront. In the coming years, 
Akilah
 hopes to work on a twelve-part docuseries that highlights every Black community in Canada, as well as an original comedy series about her life as a Black teen in a predominantly White neighbourhood and school.